How exciting, it is finally here!!!! my latest mix album on tidy! As you all must all know by now (unless you are living under a rock
my set was recorded at the last tidy weekender. I loved playing this set so much (happy memories will be locked in my head forever!) and I am really pleased it has been put onto C.D for everyone to keep. Was you there rocking along to it? If not now you too can experience the magic of a tidy weekender! Here is all the info plus scroll down for a glimpse into the life of Lisa Pin-Up where tidy interviews her leading up to the release. (get mix from www.tidy.com or www.hmv.com)
Tidy Weekender 15 – LIVE
As the dust clears, your ears finally stop ringing, the best weekend of your life is just a distant memory and your feeling down that you have to wait another 5 months until the next Weekender….
Do not fear as Tidy is hear to help you over come your post traumatic weekender stress with 3 CD's of the biggest and best anthems from the sell out October event to help you re-live the best weekend of your life!
Mixed by Tidy girl Lisa Pin Up, Radio One's very own Kutski and Hard House legend Ilogik, Tidy Weekender 15 Live delivers a musical snapshot of Tidy's flagship event in this exclusive album mixed live and direct from the spiritual home of the Weekenders in Prestatyn, Wales.
The album starts with Lisa Pin Up's trademark party sounds, delivering an excellent mix of bouncy Hard Dance loaded with cheeky samples and riffs from days gone by to keep you listening hard.
Things get a whole lot faster and a whole lot harder when recent Radio One signing Kutski slices up the weekender crowd with 60 minutes of pure unadulterated Techno and Hardstyle pleasure all scratched and hatched together as only Kutski knows how.
The third and final disc welcomes DJ Ilogik with an awe inspiring mix of the most upfront Hard House and underground anthems mixed using 4 CDJ's and the DJM 800 to maximum effect.
With only 5 months to wait for the next weekender, Tidy Weekender 15 LIVE is the only survival tool guaranteed to get you through the winter months.
Available online at tidy.com and from all good record stores from November 03rd 2008, be sure to get your copy before it sells out!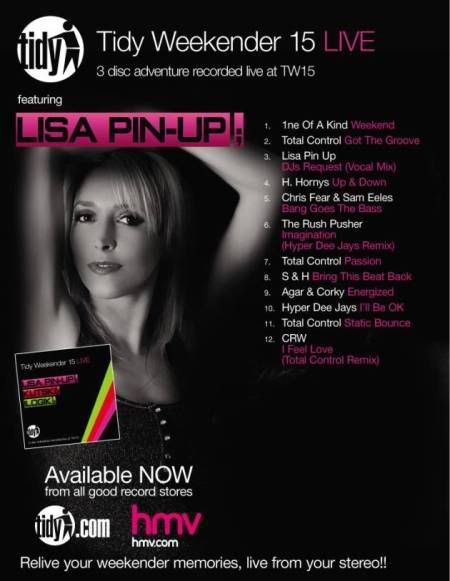 Lisa Pin-Up Interview
1). How was Tidy Weekender 15 for you? absolutely fabulous! but the weekenders are always amazing anyway
2). After your set you were mobbed for literally an hour afterwards, was that not a bit intense was for you?
So you were there to see that, lol! Its not intense at all, i love seeing everyone! I know so many clubbers that go to the weekenders that I always arrange a meet up after my set as it is such a special occasion. Anyone else that fancies saying hello after my next set at the weekender, see you by the decks when I finish!
3). You kindly allowed us to record your TW15 set and release it as part of the commemorative Weekender album pack, what tunes did you include?rnLately I have not been to keen on releasing official mixes as I love a bootleg and you are not aloud to use these tracks in a mix destined for the shops because of licensing reasons. Well this time I planed ahead and got a lot favourite producers replay and all the riffs and vocals to their tunes enabling me to use the tracks for the mix. So to cut a long story short with this mix you will be getting an authentic Lisa Pin-Up set with no compromise and you will smile when you hear a bassline or riff from one of your old favourite tunes
4). You are one of the original Tidy girls, and you've played at most of the weekenders, do you have a particularly favourite weekender?rnMy favourite set at the weekender was always when all the original tidy girls played together right at the beginning of the weekenders but this all changed at TW14 when i had a moment there right up the stage, I took a look around and thought WOW! I was loving it so much, but then TW15 was just as good! I just seem to be enjoying everyone at the moment and now can't wait for TW16!
5). If there was a Lisa Pin-Up Weekender, what would be the theme?rnNow that would be telling, everyone knows I had my god save the queen tours, well I was down the Pub Sunday and after a few beers a new idea popped in my head for a new style of tour and if I had to pick a theme it would be this but I am not giving the game away now, just watch this space!
6). You are affectionately known as the Queen of Hard House, DJ wise who would you have as your king?
he is not a dj but there is only one king in my life, Peter Pin-Up! my husband. If I am the queen then he is my prince Philip, always saying inappropriate things yet highly amusing, totally uncontrollable yet love him to bits and I met him when I was just sweet 16!
7). You've got a new track coming out on Tidy soon called 'DJs Request' as part of the second Tidy Girls EP, can you tell me more about the track?rnWell everyone knows me, I am ever so slight naughty and I am never serious, every thing is rather tongue and cheek as I am not a very deep or dark person, just out for a party! So I had this idea about when you are a dj, you always get asked requests. So I come up with the vocal "So dj do you take requests". It has this massive really hard off beat bassline when the tune comes in and i do see people smile when they hear the words and it is great I see people singing along to it on the dancefloor.
8). You're playing at the last ever hard dance event at the legendary Tall Trees on 29th November, have you got anything planned for that set given its significance?
Well I can't let the crowd down by playing anything different that my usual hard bounce as that is what they will be expecting from me but I never knew it was the last one! I just love this venue so that will make it all the more special, such a shame there will be on more.
9). What CD are you currently listening to in your car?rni would not want to embarrass myself by telling you what it is but I see something on the telly and buy it then only listen to the first two tunes and don't bother with the rest. I am not a real big C.D collector really. Think I have only bought about 6 C.D's in the last 5 years! I don't even own an i-pod.
10). What's coming up next in Pin Up world?
Well we have this tidy mix, the tidy girls project, maybe a new tour and if I do decide to get my arse into action I might even do a club night!
Tidy Weekender 15 Live – 3 Disc Adventure Recorded LIVE at TW15 -
Featuring Lisa Pin Up / Kutski / IlogikrnReleased from all good record stores November 03rdrnwww.tidy.comrnwww.hmv.co.uk